Turf-Block, also known as Grid Pavers, are most often used for parking spaces, emergency service and utility vehicle access roads through grass, wooded or dirt areas. Turf-Block also helps control soil erosion on slopes and embankments. The voids can be filled with stone for a decorative look or topsoil and seeded for soil stabilization. Lowcountry Paver is one of the only companies in the U.S. that offers Turf-Block in a variety of colors other than plain gray.
Size: 3 5/8" x 15 3/4"
Permeability Percentage: 40%
Available Thickness: 3 1/8"
Available Style: Classic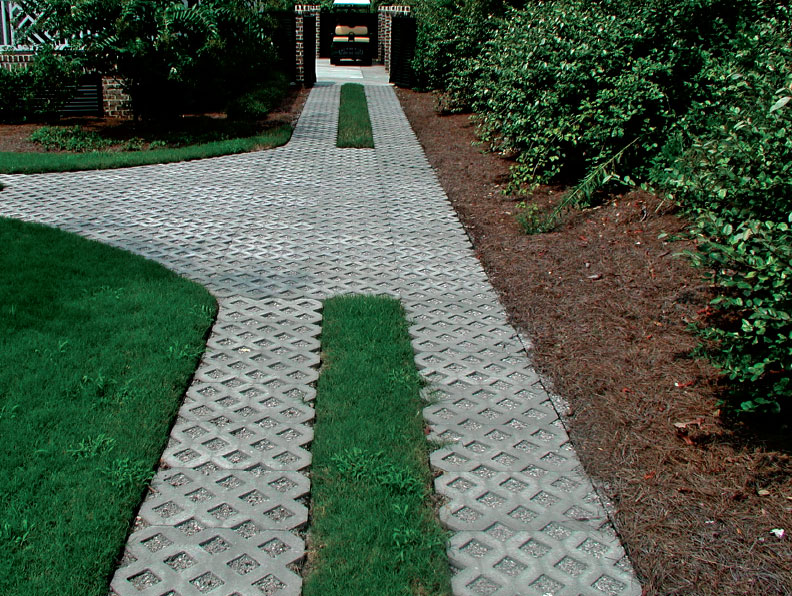 Lowcountry Paver Icons Key:

Stock Product
Shape is always in-stock* in both Traditional & Coastal Color Collections.

Limited Stock

Production wait-time should be expected. Limited amount of inventory is kept in stock.

Custom Order

No inventory is kept. Product is made to order. Wait times, minimum quantities, and/or custom order fees may apply.

Pedestrian Traffic

Pedestrian Traffic (Patios, Walkways, Pool Decks, Courtyards, etc.)

Light Traffic

Light Vehicular Traffic (Residential Driveways)

Heavy Traffic

Heavy Vehicular Traffic (Commercial Parking Lots, Tractor Trailers)

Permeable Paver

One of the most environmentally friendly paving solutions.
Lowcountry Paver, Ultra Smooth Technology, WaterShed Permeable Paver, Perfect Paver Lifetime Guarantee, Lowcountry Paver Project Assurance Program, Lowcountry Cobble Collection, Tru-Brick, HardeeWall, Lowcountry Traditional Colors, Coastal Color Collection, Cool Pool Color Collection, Coastal Ridge Flagstone, Mall Stone, Plantation Paver, Lowcountry Square, Plantation Paver, Olde World Cobble, PermaFlow Cobble, HydraShed, Decor-Lok, and LPCI are registered trademarks of Lowcountry Block, LLC. Lowcountry Block, LLC. dba/Lowcountry Paver.
All information is considered to be accurate and Lowcountry Paver is not responsible for any mistakes, typographical errors, or accidental misrepresentations.
* We do our best to keep adequate inventory of stock product but cannot guaranty available at all times.